What Our Patients Are Saying About Our Service
"Always a pleasure to visit Dr. Vatan's office. It was quick and easy getting my regular cleaning. My mouth felt fresh and clean. Staff was polite and the hygienist was wonderful."
"Omid Vatan is the most knowledgeable and compassionate dentist I've seen. He took the time to thoroughly explain his course of treatment and methods I could use to prevent problems in the future."
"My experience was great! They did a wonderful job on my teeth. Dr. Vatan has helped with my anxiety of going to the dentist. He is very calming and patient."
"Always friendly and supportive. Dr. Vatan is very attentive to his patients. I always get excellent service from everyone I come into contact with in this office."
"From someone who's scared of dentist, Dr Vatan's demeanor and professionalism put me at ease. He cares about his patients and I will very much recommend him to everyone."
"Dr Vatan is is very good at pain mitigation, treating you when you have sensitivity. He definitely keeps up to date with the latest advances in dental techniques."
Welcome to

Vatan Dental Group - Dentist in Los Angeles
---
A decent smile constantly gives a positive impression of an individual in front of others. Stained and uneven teeth give a bad impression of a person. Dentists are experts, devoted to rendering caring services to all your dental and oral needs.
It is imperative that individuals who are experiencing dental issues need proper care and therefore needs to visit the best dentist in Los Angeles CA. The thing is whether you have a dental problem or not, you have to go to an experienced and credible dentist for regular assessment and checkup to make sure that your oral health is intact.
Get your teeth assessed at a trusted dental facility
Vatan Dental Group is a reputed dental facility providing top-rated dental care to its esteemed facilities for years now. We make sure that our patients feel comfortable and at ease when visiting us for check-up especially for people who have fear of visiting a dentist.
You may have sparkly teeth yet through routinely visiting a reliable dentist in Westchester CA you can get the best services and immediate treatment in your area and address the oral issue that is present. There are no dental defects today that can't be fixed by a specialist dentist all you need to do is to visit them routinely.
Westchester Dental services are accessible effectively today and you can walk in our clinic anytime to schedule an appointment, get proper treatment using state-of-the-art infrastructure or just consult our dentist for any particular issue of yours.
At the point when you first visit a dentist, you will be questioned and analyzed by our best dentist in Los Angeles CA and if you are found with any dental problem then a detailed immaculate dental treatment program is planned dependent on your current health conditions, age and the present state of your teeth.

A winner of Opencare's 2014 Patients' Choice Award for Dentists in Los Angeles.

A winner of the top rated dentist in 2014 in Los Angeles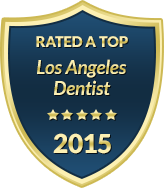 A winner of the top rated dentist in 2015 in Los Angeles
Your search ends here!
You may be searching for affordable dental treatments in your area and you can find what you are looking for at Vatan Dental Group. Our dentists are experienced and offer quality services and advanced treatment in all areas o dentistry. Dental insurance coverage is also considered to cover your treatment related costs. These protections go under our dental services. These protections are required to not just cover the general checkup of your teeth yet additionally any tooth treatment that you may require.
You must understand that cosmetic dental services are excluded in the dental insurance protection. All orthodontic related dental care is removed from general dental insurance protection and these services are required to be paid from your own pockets.
There should be no compromise on the dentist in Westchester CA that you are choosing and the type of services you get. You just need to discover one close to you that can serve to all your dental and oral needs at the best costs. You can come to our dental clinic which will expertly cater to your dental treatment with insurance protection necessities and make your treatment a comfortable experience for you.
You won't be disappointed!
We make sure that all your health issues and problems are addressed efficiently and effectively. Without giving you a chance to complain we make sure that we design a treatment plan that is most suitable as per your circumstances.
We specifically take pride in what we do and we have committed ourselves in providing you the best dental care.
Vatan Dental Group is located at 8540 S Sepulveda Blvd Ste 108, Los Angeles, CA. We are currently accepting new patients, and you can schedule an appointment by calling 310-906-1300.
Read More
DENTAL SERVICES & COSMETIC TREATMENTS
---
Our Team
Dr. Vatan and the staff at Vatan Dental Group provide quality dental care to patients in the Los Angeles area, focusing on a comprehensive approach to oral health. By treating and educating patients, our team helps patients to stay healthy in between visits. Our staff understands the importance of listening to patients, helping them to feel comfortable and relaxed. This personal approach is evident in everything we do. From making an appointment, filling out paperwork, conducting an examination, and providing dental treatments, the staff at Vatan Dental Group take the time to connect with patients and give them the thoughtful attention they deserve. Our team is trained on state-of-the-art dental procedures and techniques so that patients can benefit from the latest in dental care.


Our Services
Vatan Dental Group provides a wide variety of dental services and procedures to address all of our patient's dental health needs. We combine quality care with up-to- date technology to treat patients of all ages in a comfortable and relaxing environment. We offer information on our website for our patients covering a variety of dental and oral health topics. For instance, patients may need to visit a family dentist for their children as well as themselves or instead need to find an emergency dentist for dental care. We can also help to treat dental anxiety and offer gentle forms of dentistry to help the patient remain comfortable during treatment. With other services centered on everything from teeth whitening to root canals, our team can identify any issues and set patients on the road to a healthier future.
Patient Information
When you walk into the office of Vatan Dental Group you will be immediately greeted by our friendly staff who are dedicated to making sure that you feel comfortable during your entire appointment. We understand that patients can feel anxious when going to the dentist, and our staff will take the time to listen to all of your concerns and help you understand exactly what your procedure is going to be like. At Vatan Dental Group we pride ourselves on being an affordable family dentist that accepts a variety of insurance plans and payment options like cash and credit cards, because we want to provide a beautiful, healthy smile to everyone in the Los Angeles area. Call Vatan Dental Group today at (310) 906-1300 to see why we are the dentist of choice in the Los Angeles area.


LOCATION & CONTACT INFORMATION