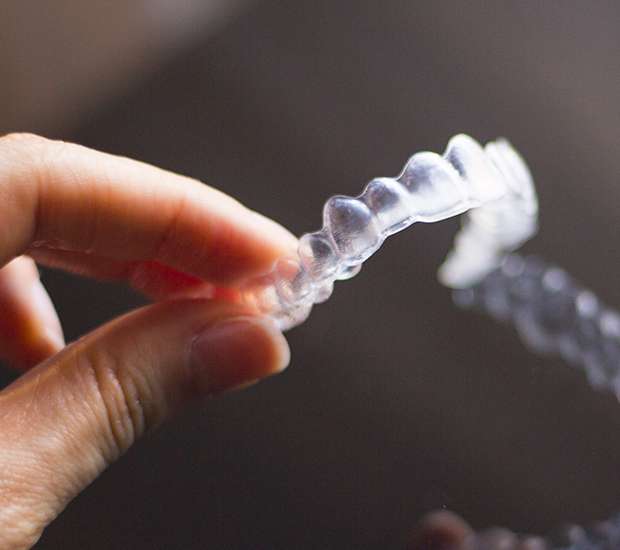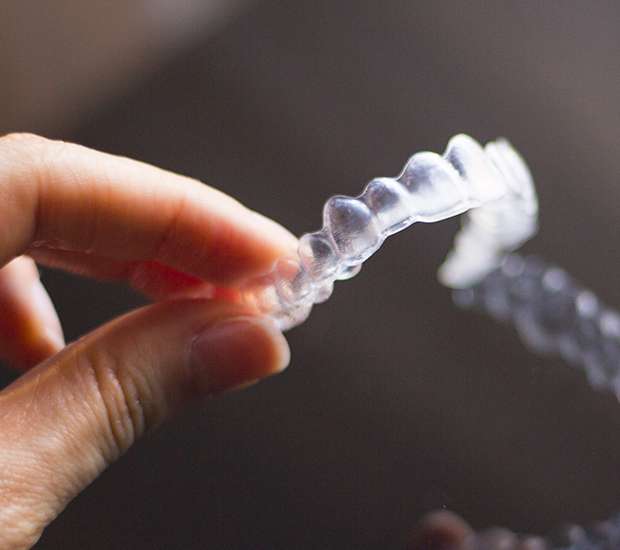 Invisalign®
Dr. Vatan is an Invisalign® Dentist, treating patients throughout the 90045 area. Invisalign® is an excellent way to straighten your teeth and adults of all ages often prefer it over traditional metal braces. If you want to improve the appearance of your smile, call 310-906-1300 to schedule a consultation and see if Invisalign® is right for you. Teenagers and adults love Invisalign® because it straightens teeth without anyone noticing that you are correcting your smile. People living in the Los Angeles CA area, trust Dr. Vatan to help them achieve their smile goals in a way that is comfortable and convenient.
How does Invisalign® work? As an Invisalign® Dentist Dr. Vatan straightens teeth using a series of aligners. First, an impression of your teeth is taken so that a series of aligners can be created in a dental lab. The aligners themselves are made out of a thermoplastic material that is strong and at the same time flexible in order to be comfortable when worn for long periods of time. The material is virtually invisible.
The aligners should be worn for 22 hours a day and every two weeks; they need to be switched out with the next one in the series. Over a period of months, the aligners will slowly move teeth into place, making one minor adjustment at a time that is targeted to specific teeth. This helps your teeth to be comfortable as they are moved into position at a manageable pace. Once you are done wearing your aligners, your teeth should be perfectly straight.
Benefits of Invisalign®
Patients throughout California prefer wearing Invisalign® because of how convenient it is as compared with wearing traditional braces.
The aligners are clear so no one can tell you are straightening your teeth.
They are only worn for 22 hours a day so you can take them out to eat dinner, go on a date, or make an important presentation at work.
You can brush and floss your teeth like normal, and no additional tools are required.
There is less of a risk that your teeth will become stained as compared with wearing metal braces that can be difficult to clean.
The procedure is more comfortable than metal braces since the aligners move teeth into place slowly and only focus on a few teeth at a time.
Aligners are easy to take care of, and you only use the same aligner for a couple of weeks.
Check out what others are saying about our Invisalign® services on Yelp:
Invisalign® Los Angeles
.
How do I care for my aligners?
Dr. Vatan recommends that patients remove their aligner and rinse it with warm water on a daily basis. You may also want to brush them with a soft toothbrush.
Attachments
Some patients need to wear attachments or ridges in order to ensure that their teeth move into place perfectly. An attachment is a clear bump that is made of an enamel colored composite and secured to the teeth. Bumps on your aligners will grip them in order to hold the aligner in place. Ridges work in a similar way only an indent is created instead of a raised bump. This can be necessary for more complicated cases to ensure that a particular tooth, or several teeth, move into place like they should.
Los Angeles, California Invisalign Dentist
Checkups
Patients of Vatan Dental Group will need to see Dr. Vatan for checkups to ensure that teeth are moving like they are supposed to. Fortunately, since the aligners are made at the beginning of the procedure, these appointments are less frequent than if you were wearing metal braces. With traditional braces, a metal bracket is placed on each tooth, and a wire is threaded between them then held in place using rubber bands. The wires need to be adjusted on a regular basis in order to keep teeth moving in the right direction. This requires frequent office visits. For people with busy schedules and a hectic life – this is inconvenient, and any delay in appointment scheduling can prolong the timeframe that braces need to be worn for. As an Invisalign® Dentist Dr. Vatan sees patients less frequently because the checkups are not to adjust anything, just to make sure that the procedure is working. This is far more convenient for patients throughout the 90045 area.
Treatment Time
For most patients living in the Los Angeles CA area, the procedure takes around twelve months. The exact timeframe will depend on your situation, and only Dr. Vatan can tell you how long they will need to be worn. Overall, the treatment time can be less than with metal braces. This is in part because you don't have to schedule appointments to keep your teeth moving. Simply pull out a new aligner.
Finding an Invisalign® Dentist Not all dentists offer Invisalign®. You have to receive special training in order to provide it to patients, and Dr. Vatan is one of the best Invisalign® Dentists in California. To learn if the procedure is right for you, schedule an appointment with our Vatan Dental Group office by calling 310-906-1300.
How will Invisalign® impact my life? Unlike wearing traditional braces, Invisalign® won't make a major impact on your quality of life. Since the aligners are clear, it won't impact your appearance. Additionally, since they only need to be worn for 22 hours a day, they will not interfere with eating. This is a huge advantage because you can eat your favorite plate of ribs, go out for a romantic date, or eat a caramel apple without worrying about something becoming stuck in your teeth or a wire being pulled out of place. This time also allows you to take the aligner out when having an important conversation or making a presentation at work. Overall, this is a convenient way to straighten your teeth and provides the maximum level of flexibility.
Some people are concerned about whether or not wearing an aligner will impact their speech. Most of our Los Angeles patients tell us that they have to get used to wearing aligners after the first couple of days. Sometimes, patients have a slight lisp which goes away once they become used to speaking while wearing them. This is standard with any orthodontic procedure but fortunately; most people can speak normally within a couple of days.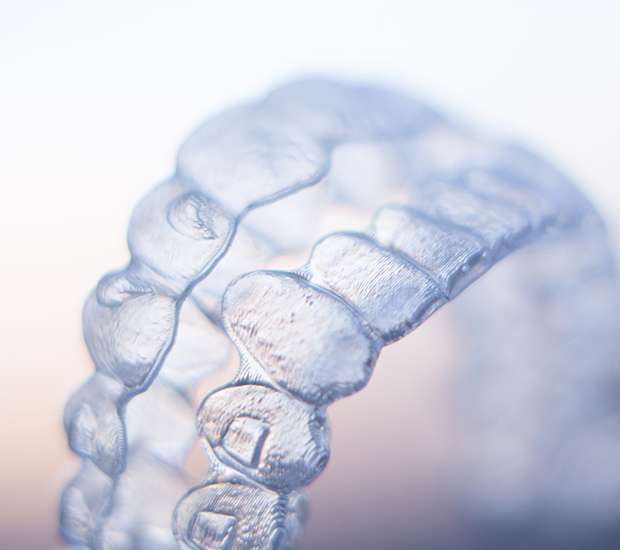 ClearCorrect® braces
are an alternative to both traditional braces and Invisalign®. In our Los Angeles dentist office, we provide this solution for straightening teeth discretely. If you live in or near the 90045 area and want to improve your appearance, we invite you to call
(310) 906-1300
and schedule a consultation to learn how this treatment option can work for you.
What is ClearCorrect?
Instead of relying on metal brackets and wires to move teeth, ClearCorrect braces use a series of clear aligners to move teeth into place. The aligners are made of a clear and comfortable plastic that looks similar to a full retainer. By taking care of them and refraining from scratching their surface, aligners will remain clear and virtually invisible when worn. At Vatan Dental Group, we can show you how to keep your aligners in perfect condition during the treatment process. The aligners are created using an impression of your teeth and gums. Once received, the lab will create a series of aligners that start with the current position of your teeth and slowly move them until they are perfectly straight. Each aligner is worn for four to six weeks and afterwards, replaced with the next aligner in the series. The aligners are designed to place pressure on specific teeth so that they are moved gradually for a more comfortable experience. By wearing all of the aligners in the series your teeth will move from crooked to perfectly straight. The aligners are given to you at the beginning of the procedure so that you don't have to visit our Los Angeles dentist office every time that you need to switch them out. This allows you to spend less time in the dental chair than you would when wearing traditional metal braces.
ClearCorrect vs. Traditional Braces
Traditional metal braces are extremely effective for straightening teeth and treating misaligned jaws. This is perhaps, the most common orthodontic procedure, and effective for both children and adults. The technology has improved over the past decade, making metal braces more comfortable than ever. Still, this solution requires that a metal bracket be placed onto each tooth with a metal wire threaded between them and secured in place with rubber bands. While smaller than they used to be, metal braces are still conspicuous and impact the way that a person looks and feels. Many people find that they are distracting and simply don't fit into a busy or professional lifestyle. Simultaneously, metal braces are difficult to keep clean as food can become stuck in between the brackets, requiring a special floss to be removed. At Vatan Dental Group, we speak with patients that have told us they had to change their diet and skip out on some of their favorite treats when wearing braces. While only temporary, this can be inconvenient and at times, frustrating. Given the tendency for food to become stuck, those wearing braces, also need to spend more time brushing and flossing throughout the day.
ClearCorrect
is a far more convenient option and one that patients throughout Los Angeles are taking advantage of. The aligners themselves are supposed to be removed when eating so there are no restrictions on which foods you can eat, no chance of something become stuck or the embarrassment of feeling awkward while eating. They are supposed to be worn for 22 hours per day, leaving plenty of time to plan a romantic dinner out, business meeting, or lunch with friends. This makes it possible for patients throughout California to maintain their current lifestyle without any further restrictions. Another advantage of
ClearCorrect® braces
over traditional ones, is that the aligners can be taken out while playing sports, a musical instrument or singing in the choir. As a dentist, for example, we recommend that athletes wear a mouth guard during practice or a game and by removing the aligners this is possible. When wearing traditional braces, on the other hand, it can be difficult to wear the necessary protective gear without causing further irritation. If you play sports on a regular basis and live in the 90045 area, we invite you to schedule a consultation to see how much easier it is to continue wearing a mouth guard when using ClearCorrect® to straighten your teeth.